Falcon 2000 Maritime Surveillance Aircraft, France
---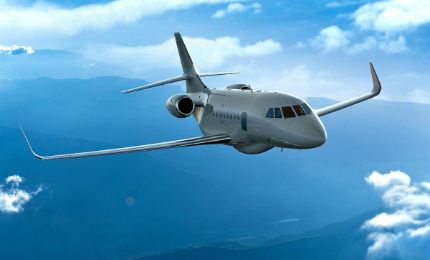 The new twin-jet Falcon 2000 maritime reconnaissance and surveillance aircraft will be built by French aircraft manufacturer Dassault Aviation, in partnership with L-3 Platform Integration and Thales.
Falcon 2000, which is based on Falcon 2000LXS business jet, was originally developed for the French Navy's AVSIMAR project.
The Japan Coast Guard (JCG) ordered for an undisclosed number of Falcon 2000 maritime surveillance aircraft (MSA) in April 2015, to strengthen its operational fleet.
Mission capabilities
"The aircraft is designed for a range of naval and coastguard missions such as search-and-rescue (SAR), law enforcement and drug interdiction."
The aircraft is designed for a range of naval and coastguard missions such as search-and-rescue (SAR), law enforcement, drug interdiction, piracy control, fishery patrol, anti-surface warfare (AsuW), intelligence, surveillance and reconnaissance (ISR), as well as electronic intelligence (ELINT).
It can also perform signal intelligence (SIGINT), environment protection, monitoring of maritime approaches, over-the-horizon targeting (OTHT), surveillance of economic exclusive zone (EEZ) and maritime traffic, medical evacuation, and transportation of personnel and light equipment.
Design and features of Falcon 2000 surveillance aircraft
The Falcon 2000 features high-speed, high-altitude, long-range and long-endurance capabilities. It has four leading edge slats and winglets, which reduce drag and increase lift. The aerodynamic design and sturdy airframe enable the aircrew to perform operations in all weather conditions.
The surveillance aircraft requires low maintenance costs and is capable of operating from forward operating bases without heavy ground support equipment and special operators.
It has an overall length of 20.23m, height of 7.06m and wingspan of 21.38m. The 7.98m long, 1.88m high, 2.34m wide cabin with a volume of 29m³ accommodates significant payloads. The aircraft is manned by two pilots and two operators. In enhanced configuration, it can seat an additional two operators.
Falcon 2000 is fitted with oversized observation windows, markers launcher, FLIR retractable electro-optic turret for all-round situational awareness, and life rafts dispenser for SAR operations. It can be equipped with underwing store stations to carry air-to-surface missiles, electronic warfare / simulation pods, and target towing equipment.
Cockpit
---
---
Silent Falcon is a solar/electric-powered small unmanned aircraft system (sUAS) jointly developed by Silent Falcon UAS Technologies, Bye Aerospace, and Ascent Solar.
---
The maritime patrol and reconnaissance aircraft is integrated with Dassault Aviation's Enhanced Avionics System (EASy) cockpit, which features two primary display units, two multi-functional display units, cursor control devices, enhanced take-off and go-around capability.
It also features a digital flight control system, colour displays, multi-function workstations, sensor suite, and an optional synthetic vision system.
The flight control system is used for managing onboard sensors and planning for multiple missions, while reducing the operator workload.
Navigation and communications onboard Falcon 2000
Onboard aircraft navigation systems include RNP/SAAAR, WAAS-LPV GPS guidance, XM Weather with INAV map, ADS-B Out (automatic dependant surveillance-broadcast), automatic descent mode (ADM), and runway awareness and advisory system (RAAS).
It also incorporates satellite communications (SATCOM) and a long-range, multi-mode, air-to-surface radar.
Propulsion and performance of Falcon 2000
Falcon 2000 surveillance aircraft's propulsion system consists of two Pratt & Whitney Canada PW308C turbofan engines, which develop a maximum take-off thrust of 7,000lb each.
Engines are equipped with a dual-channel, full-authority digital electronic control (FADEC) system and a through-flow combustor with advanced TALON combustion technology.
The aircraft has a maximum take-off weight of approximately 18,600kg, an empty weight of 11,200kg, and a fuel capacity of 6,600kg.
Maximum speed and range of the aircraft are Mach 0.86 and 7,410km respectively. The aircraft can climb altitudes up to 14,325m. It has a take-off distance of 1,425m and landing distance of 689m.